More and more people have made livestreaming a part of their lives.
Over 16 million users are on the world's largest and best-known livestreaming platform Twitch every day, putting themselves and their content on display. The special thing about this, unlike TV or classic social media platforms, is that the publication and creation of the content takes place simultaneously. In the process, viewers can actively participate in shaping the actions. This creates a unique, interactive exchange between influencers, also known as streamers, and viewers.
"Wait a minute, Twitch is just for gamers, right?"
- No, not for a long time!
Why more and more companies are now entering the livestreaming market, be it with Twitch Ads, their own channels or Twitch advertising in the form of influencer sponsorships and how you can do it successfully as well, you will learn in this article.
For many marketers and companies, Twitch has been unfairly hidden under the radar for a long time. In the meantime, however, many companies are beginning to use the advertising potential for themselves as "early birds". In doing so, companies benefit from modern brand communication and reach new target groups authentically with Twitch Marketing.
The livestreaming platform has long since shed its stereotypical existence as a pure gaming platform. More and more streamers from various fields are starting to stream their video content live and it is amazing how the topics of lifestyle, music, sports, cooking and "just-chatting" have been able to establish themselves over the years. For marketers, this opens up new advertising opportunities that in many ways take traditional influencer marketing to a whole new level.
Every day, many brands discover the booming Twitch world and inspire with successful advertising campaigns. It is therefore a great advantage to exploit this potential as a first mover. You can find out what is important in livestream advertising in this article.
In the following, we will illustrate how a livestream is structured and which four core elements characterize it. These points can be better understood with the help of the markings in the figure below.
1. The live video
The livestream or live video is the venue for all content that emanates from the content creator. There are countless ways to design the stream. For example, in the "just-chatting" category, a lively exchange takes place between the streamer and the viewers. In addition, games are also played or videos are reacted to here. Since live video thrives on visual content, this one is ideal for banner ad placement.
2. the influencer
The streamers maintain their community and cultivate a close bond. Games can be played, chats can be held or creative streaming ideas can be implemented.
3. The live chat.
The main feature of any livestream is the stream chat. There, viewers and influencers engage in a familial exchange.
4. the stream info
Another particularly interesting area for marketers. Here, most streamers usually place various advertising banners from sponsored companies in addition to important personal information, also as in the livestream.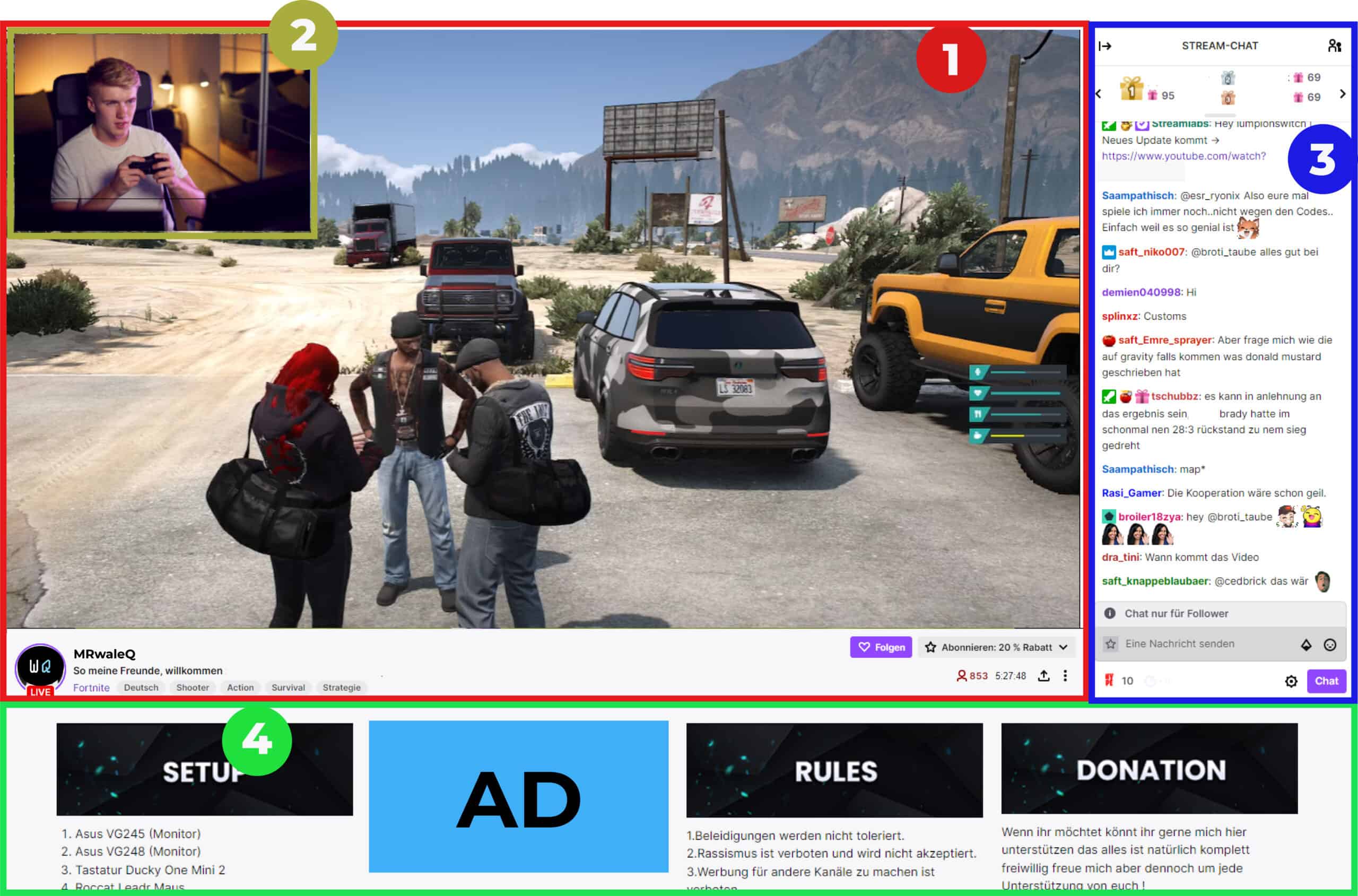 YouTube vs. Twitch! Where is the difference?

The biggest difference to YouTube and other broadcast platforms: Twitch is live!

Unlike TV or the usual social media platforms, the publication of content takes place in real time, and viewers can actively shape the action along the way. This creates a unique exchange between the influencer (streamer) and the community. In addition, there is no like or dislike button on Twitch, instead the emphasis here is on transparent communication between viewers and influencers. Feedback takes place in the live chat, so the streamer can directly capture the opinion and mood of the viewer and react to it. YouTube recently launched its own live streaming service (YouTube Gaming), but with around 8.9 million hours streamed in Q2 2021, it is still a long way from Twitch. - However, we can look forward to the future.
The target audience on Twitch

Just like the range of topics, the target groups on Twitch have also shed their supposed niche status and stand out as particularly colorful. Today, Twitch offers a broad range of topics in the areas of lifestyle, travel, outdoor, food & drinks, role-playing games, fitness, etc., and it is precisely here that a new target group is emerging that is much easier for many companies to access than before. This target group consists of 73% of viewers aged 16-34 and 35% of all users are currently female - with an upward trend.
Traditional media use has changed dramatically. Ads in traditional on-demand platforms often lose their impact due to an ever-increasing advertising resistance. Most viewers place a high value on consuming authentic content, which is what makes the Twitch platform so special. Also
Burkhard Leimbrock, Commercial Director Europe at Twitch
reiterated that the opportunity for advertisers on Twitch has always been to reach an audience that can't be reached anywhere else.
Especially crucial is that, according to a survey, about 80% of all Twitch users are open to ads and sponsorships, as long as they can identify with the influencer's content and fit together. Viewers on Twitch are aware that advertising plays an important role in the livestreaming world and is of great importance to the influencer. After all, the latter must be able to finance itself and its livestream in order to always be able to deliver qualitative content.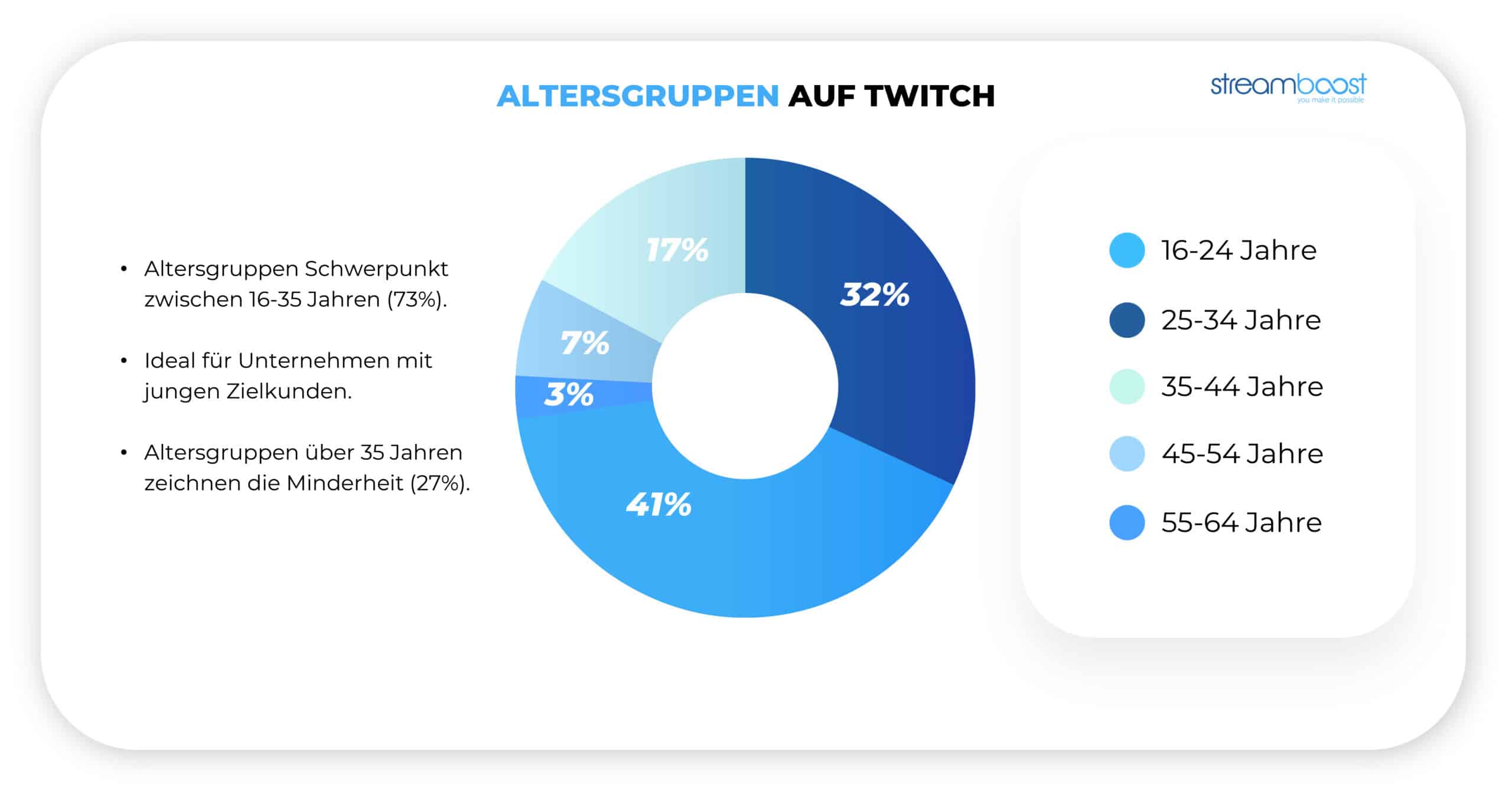 What do industry/and fashion brands have to do with Twitch?
In addition to the Aldi Group, brands such as.

Gillette

,

Porsche

and

E.l.f Cosmetic

have also ventured onto the livestreaming platform and today serve as absolute showcase companies in terms of Twitch marketing.
Porsche unveiled its new Formula 1 hybrid live on Twitch in August 2019 in an interactive livestream called "Formula E Unlocked." The creative campaign had its rewards. In total, Porsche was able to attract almost 1 million viewers to their livestream and collected over 14 million user contacts. So was Paris Fashion Week 2021, which was broadcast on a Twitch livestream and reached over 42,000 viewers.
Also German companies like,

AirUp

and

Ankerkraut

have had a successful foothold on Twitch for some time now. Ankerkraut and AirUp inspire with authentic influencer collaborations and Twitch Ads, which are specifically included in the live videos by appropriate streamers. This has led to a large part of the German Twitch community already accepting these two brands as well-known and established big players in the German-speaking world.
Twitch - the revenue generator.
Another prime example of how non-gaming companies are using Twitch advertising sustainably and working smartly with gaming influencers is the company

Em-Cosmetic

. Founder Michelle Phan, who herself comes from the influencer scene, promoted the newly released Daydream Cushion makeup line in real time to thousands of viewers in a "Leagues of Legend" livestream. In addition to advertisements in the livestream, purchase links were additionally posted in the live chats. So the livestream advertising can take place both by presenting the streamer and by the stream chat.
The result of the Twitch campaign was a complete success. Overall, the brand was able to sell 248% more units than when the product was first launched.
This way you can also use Twitch as an advertising platform!
1. build Twitch channel as a business
The most obvious and at the same time most costly way to gain a foothold on Twitch is to become an "influencer" yourself with your company and build your own livestreaming channel. At first glance, the concept raises many questions. "Who and what should be streamed?", "How do I get live viewers?", "How do I place my product?". All these are relevant questions, which you should have answered thoroughly before the launch. A well-known showcase company that has ventured into the livestreaming world with its own streaming channel and can speak of great success is the brand

Aldi Group Aldi Gaming

. With formats such as the Heldenschmiede, where small micro streamers were allowed to prove themselves in a competition on the Aldi Gaming channel, or regular raffles and special events in cooperation with well-known German Twitch streamers, the Twitch channel of the discounter brand was able to build up a large and loyal community in a short time and now already has a large number of fans. over 23,000 followers. During the livestreams, numerous social media channels and product links were shared, and the live chat allowed thousands of viewers to actively contribute to the live video.
The Aldi Group's bold move to appear as an influencer on Twitch itself was a milestone for many marketers. Also
Felix Falk - CEO of Game commented on the issue
and announced that it is also very interesting for non-gaming companies to inspire the gaming community and show presence. The decisive factor here is not the gaming industry, but the attractiveness and strong purchasing power of the Twitch community.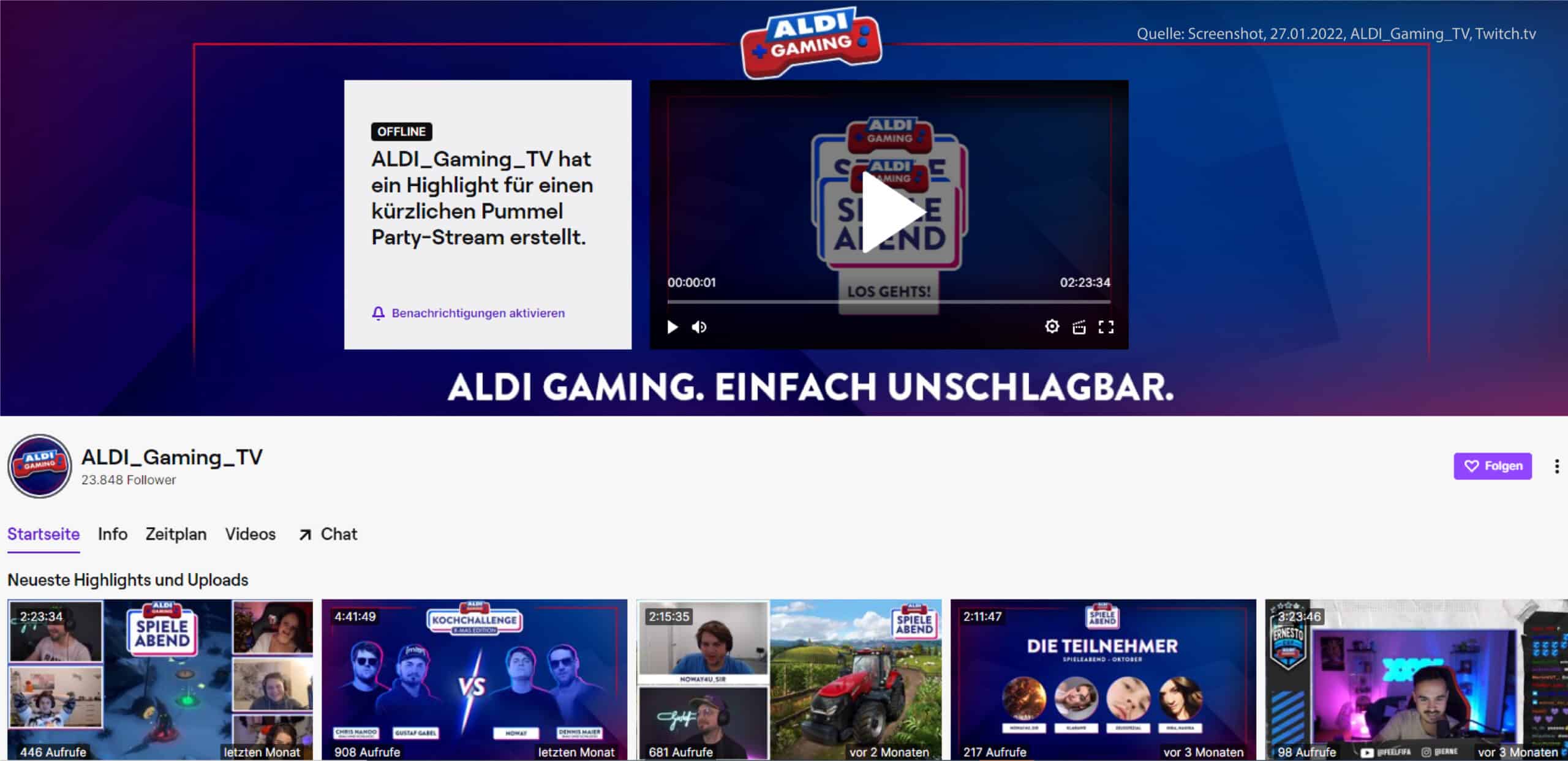 2. place advertising directly on Twitch
Twitch Advertising is the name of Twitch's in-house advertising offering, with a focus on ad placements on the homepage, as well as before the start and after the end of a livestream. Similar to what you probably already know from classic YouTube advertising. The Twitch ads are not integrated into the influencer's content, but are placed on the platform independently of the live stream, and the streamers have little to no control over which ads are played on their channel.
Pre-Rolls:
This advertising option is video ads, which are displayed to viewers before the start of a live stream. These ads cannot be skipped by the viewers and the streamers have no influence on the type of ads.
Mid-Rolls:
Unlike the pre-rolls, here the commercial snippets are inserted between the livestream with a random commercial break. In this case, the running livestream is interrupted by the advertising video.

Requirements:
Before you start with the in-house Twitch advertising opportunities, you should still consider a few things.
Thecurrent minimum budget for ads from Twitch is €10,000. This sum should be spread over a period of 2 to 8 weeks. However, if you want a complete marketing offer from Twitch, the starting prices are €75,000.
3. this is how influencer marketing works on twitch
Advertising with influencers plays a big role on Twitch and is already a must have in the marketing plan for many companies and a popular alternative to the advertising option mentioned above. Due to the many options that a cooperation with a streamer offers, brands can benefit from sustainable branding. Before you start with influencer marketing on Twitch, you should know in advance that traditional paid sponsorships, as they are known on Instagram, YouTube, TikTok and Co. are not comparable with cooperations on Twitch.
On average, a German streamer has around 25 permanent viewers and more than three quarters of all streamers count as micro streamers with less than 100 simultaneous viewers. It quickly becomes clear that we have to look at Twitch marketing from a different perspective and that the potential of a streamer cannot be determined solely by the number of followers and viewers.
Influencer marketing on Twitch is not about reaching as many users as possible in the first place, but about targeting the viewers who are most likely to interact with your ads and have strong buying power in an authentic way. As already mentioned, the bond between viewer and streamer is much stronger with micro-influencers on Twitch than with individual large streamers.
Accordingly, it makes sense to take a closer look when choosing the right Twitch influencers and not to be swayed by followers and viewer numbers.
How can Twitch streamers promote my product?
1. product placement & sponsorships
Typical influencer marketing on Twitch makes use of the above-mentioned elements.

4 elements of a livestream.

First and foremost, the livestream itself plays a major role; here it is important to find the right streamers with suitable content and target groups.
Once that is done, consideration can be given to how your brand can be integrated into the influencer stream. The two most popular types are active product placements, where your product or brand is featured by the streamer live during the stream and recommended to their viewers. Mostly, products are unpacked live, consumed or recommended to the community. As a rule, the pure speech portion of the streamer about your product amounts to approx. 3-10 minutes per livestream.
- Individual streamers with a high profile
- Direct approach in a short period of time
- Interactive communication
- Product presentation, consumption or unboxing
2. place advertisement in livestream
Another very popular and effective advertising option on Twitch is placing ads directly into the livestreams in the form of a small advertising window. Often, product links are additionally placed in the streamer's stream info and in the live chat, so that viewers come into contact with your brand or product immediately and for a long time. Finally, ad placements reach more people over a longer period of time than active applications. As a rule, advertising banners are displayed permanently for up to several hours and days, so that the community can get used to the product and identify their favorite streamer with it. The aim is often to create sustainable branding in order to place a brand or product authentically with the young target groups. Thousand contact prices (TKP) or cost per click (CPC) models are particularly well suited here.
- Simultaneous placement in numerous channels
- Super suitable for micro streamers
- strong & positive memorability
- High range due to long display duration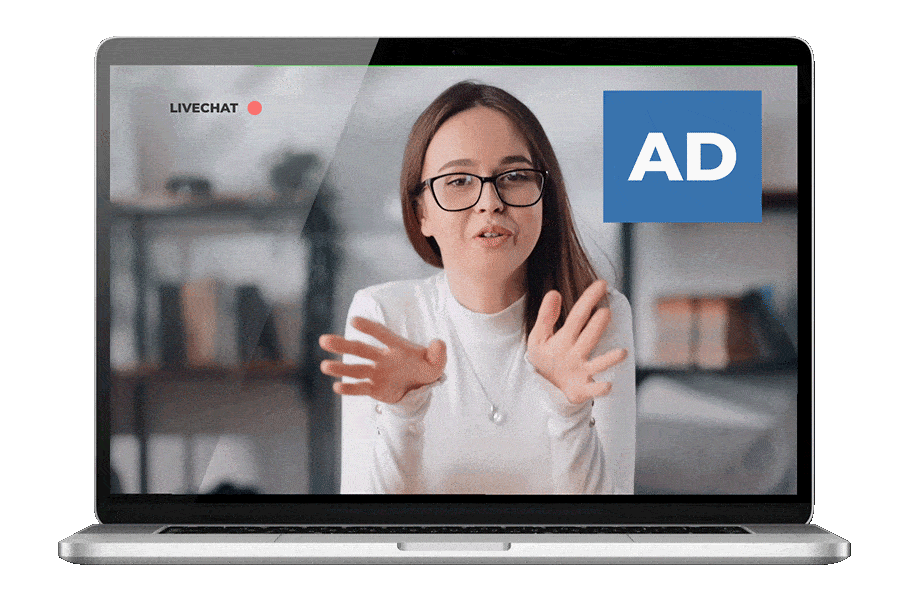 Influencer marketing on Twitch
- 3 golden rules!
1. authentic advertising is half the battle. By making viewers generally receptive to Twitch advertising, it's easier to build trusting and lasting brand awareness.
2. Advertising with influencers is successful on Twitch when the right target groups have been analyzed and the streamer can identify with the product. As you can see in the example above, you should get away from the idea that Twitch is only a platform for gamers.
3. twitch ads should ideally be designed and placed in such a way that viewers do not find them annoying, but see them as part of the livestream. In the best case, switch Twitch advertising automated to save time and effort.
Automate Twitch advertising?
- Our own developed campaign tool makes it possible!
Now, if after this article you feel that Twitch can be relevant for your marketing strategy in 2022 and you would like to get a foothold with your brand or product on the booming livestream platform, streamboost is a key contact.
After more than 3 years of software development, we have created a self-service platform that has put influencer marketing and ads on Twitch in a new light.
Withour system, we currently bundle more than 3,500 German micro and macro streamers from various categories and connect them with your advertising campaigns in a target group-specific and automated way. Among them many gaming influencers, lifestylers, just-chatterers and artists. Streamboost Ads you can plan independently in your own company account at any time and have access to comprehensive Evaluations and statistics. For us, authentic Twitch marketing comes first, so we maintain close contact with our streamers and our AI matchmaking ensures that only the right micro streamers are added to your campaign and bundled.
Select whether you want to use the page as an influencer.
or companies would like to explore further.
Do you have any questions or comments?